RESUME
Don Slesnick was sworn in for his fourth term as Mayor of the City of Coral Gables, Florida, Friday, April 13, 2007.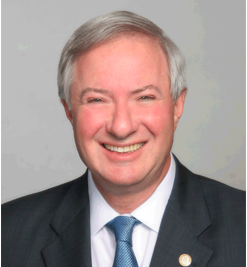 Don continues as the managing partner for the law firm of Slesnick & Casey. He has been in private practice since 1975. Prior to this he held management positions with the Dade County Public Schools and the Dade County Police Department.
A 58 year resident of Dade County, he graduated from Miami Senior High School, received his B.A. from the University of Virginia, a J.D. from the University of Florida and a M.P.A. from Florida International University. He was admitted to the Florida Bar in 1972 and the U.S. Supreme Court in 1985.
Don is a Vietnam veteran, a former U.S. Army advisor to NATO forces in Germany, and was recently appointed as an Army Reserve Ambassador for Florida. Don retired from the Army as a Lt. Colonel after 27 years of service and having received combat ribbons and awards culminating in the Meritorious Service Medal.

Don is active in numerous civic and business organizations which include the Greater Miami Chamber of Commerce Board of Governors (founding Chairman of the award winning program for Ethics in Business & Government) and served two terms as Chairman of the Coral Gables Community Foundation.
He has served as Chairman of the Miami-Dade County Cultural Affairs Council; Chairman, Dade Cultural Alliance; President, Dade Heritage Trust; President, Jr. Orange Bowl Committee; President, Rotary Club of Coral Gables; President of the Two Hundred Club of Greater Miami and President of the Florida Trust for Historic Preservation.
He is a member of the Orange Bowl Committee, and recently served on the Miami-Dade Mayor's Aviation Blue Ribbon Panel.
Included among his awards, Don was selected the 1994 #1 Unsung Hero - "Best of Miami" Miami Today; the Bill Colson Community Leadership Award from Leadership Miami; the MAXIE Award - Miami Arts Exchange; the Distinguished Service Award - American Bar Association; the Miami-Dade County 1998 Medal of Merit for Leadership; the 2001 "Man of the Year" Award by the Renaissance Historical Society of Florida; the 2004 Ronald McDonald House "Twelve Good Men", and was chosen by South Florida CEO magazine as one of the "Top 101 Global Leaders of South Florida-2004." He was most recently honored by the Sons of the American Revolution with the "Good Citizenship Silver Medal" for "outstanding public service and contributions to the advancement of the principles of Americanism." In june of 2010, Don was presented with the Friend of Foreign Service Medal "in recognition of his remarkable contribution to the friendship between the Republic of China (Taiwan) and the United States of America."

Don is married to Jeannett Slesnick, a realtor in Coral Gables for over 39 years. They have two children who are happily married and have three beautiful granddaughters.